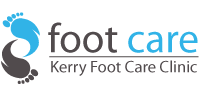 Call us now:
087 1169099
E-mail us:
info@kerryfootcare.ie
Unit 3M, Liber House, Monavalley Business Park, Tralee, V92A2P8

Full Medical Foot Care Package
---
This treatment is directed to patients with foot infection, mechanical damage to the toenail plates, diabetics, etc. It is extended foot treatment including removal of calluses, corns, etc.
The treatment starts with an in-depth interview and observation of the skin conditions of the feet and toenails.
Consists of:

Nail plate trimming, in such a way that it will minimize the risk of in-grown toenail

Nail groove cleaning

Overgrown, hard skin removal using special drill


Removing calluses, corns, etc

Peeling application to the feet

Cream application to the feet.

Massage

Classic Foot Care Package
---
It is a traditional treatment improving look of the natural nail plate and skin of the healthy feet.
Consists of:

Nail plate trimming, in such a way that it will minimize the risk of in-grown toenail

Overgrown, hard skin removal using special drill

Peeling application to the feet


Cream application to the feet

Massage